Enjoy the sexy and sensual adventures of Fifi and her friend Babsy in our latest graphic novel


Redlight Stories
Volume 1: Fifi's sexy Adventures
-Digital Edition-
Story: Alicia Lorenza
Art: David Boller
Publisher: Comicladies.de
Format: 53 pages
Secure download over Paypal/Payhip
Price: 9.95 €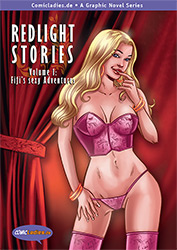 Redlight Stories
Volume 1: Fifi's sexy Adventures
The graphic novel offers a look behind the scenes of a brothel in Frankfurt.
Fifi, a sexy and busty blonde in her early twenties is earning her living with prostitution. She's running her business out of her apartment in Frankfurt, Germany's financial center, and is introducing the reader with short but exciting episodes to her world of lust and desire. She has to stay on top of the daily affairs of her brothel, set up online ads and of course take care of her customers. With her colleague Babsy she experiences many bizarre and hilarious situations. The extravagant demands of her customers and an unexpected police raid show how exciting the world of sex workers can be.
Story: Alicia Lorenza
Art: David Boller
ISBN: 978-3-9818039-2-1
Publisher: Comicladies.de
Format: 52 pages, 17 x 24 cm, softcover
Preis: 17 € / $ 18.60 / £ 14.90